We are optimizing for mobile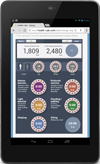 We are continously upgrading our content and the site and our most popular calculators now works and looks good on any smartphone and tablet. The rest will follow soon.
Check out: Body mass index - Waist to height ratio - Energy expenditure - Weight loss calculator - Skindfold D & W - 1 RM - Bleep test
The health profile system will be upgraded and online again within a week.